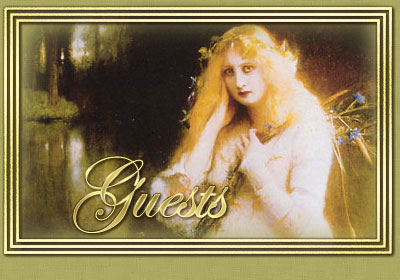 Sign my Dreambook | Back to my site



Name:
Angelica
Homepage URL:
http://vetteljus.se/ynymph
Comments: Kära nymfer och andra besökare,
Eftersom Ringsurf inte funkar som det brukade och min webbring ändå aldrig var populär så kommer jag nu ta bort den. Det är alltså min ring Romantic Art jag talar om, som den här sidan haft som huvudtema i många år.

Sidan kommer dock vara kvar och för ett tag sen fick den ett nytt namn - The Nymph's Romantic Art - som var lite mittemellan ringen och tambursidans namn. Sidan har nu flyttats in på subdomänen Your Nymph Legend vetteljus.se/ynymph. Andra titeln har ändrats till svenska och heter nu Legendariska Romanser.

För övrigt är sidan sig lik, men är inte riktigt färdiguppdaterad när jag skriver det här, så hur det blir när den är klar vet jag inte. Men några planer finns inte på stora förändringar. Webbsetten är endast på engelska och bara medlemmar i min grupp Fairyland Poetry kan få setten översatta eller ändrade med mer än en ny titel.

Vänligen, Angelica
Wednesday, March 10th 2010 - 06:22:31 PM


Name:
peacefully
Homepage URL:
http://www.leannsemotivepoetry.com
Comments: You have an elegant site. I love the song, "I fell in love with you." I would like to invite you to visit Sister's of the Goldenmoon, a wonderfil women's oragnization I am proud to be a part of.

Thursday, December 15th 2005 - 02:21:42 AM


Name:
Elin
E-mail address:
m4jliin_@hotmail.ocm
Comments: Hej ! Jag skulle bara kolla runt lite här på nätet, då jag
upptäckte denna sida ! den är otroligt fin ! jätte vackra bilder . och underbart fin musik! Väldigt glad att jag hittade denna sida! det som kankse fattas är kankse att ni har för lite dikter. //Elin 13 år
Monday, May 16th 2005 - 04:38:32 PM


Name:
Angel Rae
Homepage URL:
http://seangels.org
Comments: Greetings! I enjoyed my visit to your lovely site. You have a great collection of music and lyrics on your page. The place looks nice too. I love the background. Great choice. Keep up the great work.
I would like to invite you to visit us at Simply Enchanting Angels. We are an online group, and we have a lot to offer in our committees, causes and more. You will meet a group of kind and supportive angels as well. Feel free to come by and look around to see if you would consider joining us. We look forward to hearing from you.

Tuesday, February 3rd 2004 - 07:31:39 PM


Name:
Mama Numpa
E-mail address:
mamanumpa@cox.net
Homepage URL:
http://sistersofthesoul.org
Comments: I would like to invite you to join a group that I enjoy very much called the Sisters of the Soul. It's an Internet group dedicated to bringing women from all over the world together to share thoughts, feelings, stories, ideas, and to create lasting friendships. We are also one of the very few, if not the only, to welcome our little sisters who are able to join separate, strictly moderated rooms, thereby being introduced to the internet and e-groups in a safe, loving and protective environment.

We have many ladies with us that are active in other groups, and we have taken the time to share our experiences with each other and use them to create what we feel to be a very loving sisterhood. I would like so much to have you join us, as you seem to be a wonderful person. Feel free to stop by and pay us a visit and even apply!! We would LOVE to have you!!
Tuesday, January 6th 2004 - 06:43:41 PM


Name:
Rita(Patsy)
E-mail address:
diggers@wosib.org
Homepage URL:
http://www.wosib.org
Comments: I loved your site and I would like to invite you to join the Wosib women`s Group. They are a great group of ladies and I am sure you will enjoy your time with us.
Rita.
Tuesday, September 30th 2003 - 05:25:50 PM


Name:
Elspethe
E-mail address:
elspethe@charter.net
Homepage URL:
http://www.quitforgood.net
Comments: Hello! I just stopped by your very beautiful website to visit, and to invite you to visit our new webring and group. It was created for the purpose of helping one another quit smoking. You don't have to smoke, you can help others. We have a forum, and a chat room, where you can make new friends. Please pay our new site a visit, and if you want, join. We'll be looking for you. Hugs, Elspethe

Wednesday, June 18th 2003 - 07:14:05 PM


Wednesday, June 4th 2003 - 10:43:34 PM


Name:
2sweetforu
E-mail address:
The2sweetforu@hotmail.com
Homepage URL:
http://www.here.at2sweetsplace.freeurl.com
Comments: Thank you for the warm welcome to Divine Divas of the Web. I love your site, you've put so much work into it and posted plenty of pictures to put a face with the name. I think I've joined a great group of women on the web. Thanks again.
Wednesday, May 7th 2003 - 10:56:36 PM


Name:
Hipchick
E-mail address:
hipchick@womenwhobelieve.us
Homepage URL:
http://www.womenwhobelieve.us
Comments: Hello! Your website is beautiful - the graphics are simply gorgeous!!!!!

After viewing your website and seeing the wonderful cyber home you have created we feel you would be a great addition to our group. Therefore, you are cordially invited to join

WWB is an internet group dedicated to women. We are a celebration of friendship, trust and most off all, ourselves. Please stop by for a visit and we hope you will consider joining us.

**With Hugs**
Hipchick
Proud member of WWB's Recruiting Committee
CL ~ Newsletter Committee
Saturday, November 23rd 2002 - 03:53:06 PM


Thursday, October 24th 2002 - 06:04:38 AM


Name:
Phoenix Rising
E-mail address:
PhoenixRising1@shaw.ca
Homepage URL:
http://www.phoenixrisingwomensgroup.com
Comments: Hello Fellow Webmistress, Phoenix Rising
Recruiting Committee has paid your site a visit today and found it to be a wonderful place. We would love for you to add your site to our webring and join our e-group. Like a Phoenix she soars.. she rises.. she flies to be the mistress of the sky. So Why not join Phoenix Rising The Hottest Womens Group On The Net. Phoenix Rising
Saturday, October 19th 2002 - 03:32:32 PM


Name:
Huntress Mystic Fyre
E-mail address:
mysticfyre@attbi.com
Homepage URL:
http://www.thewebbrawls.com
Comments: Hello Friend!!!
I was very impressed with the work you have put into your web page. And I was wondering if you would like to enter it into The Web Brawls.
What are the Web Brawls you ask? The Web Brawls are a family oriented web page competition. Its a place to come meet a lot of new, and interesting people. Its a place to have some fun and show off your hard work. Its also a place to make lasting friendships. The Web Brawls have been designed in an attempt to give a place for some friendly competition and fun.
We've currently got 14 teams to choose from, so you can find one that suits your fancy. It doesn't have to match the theme of your homepage either. Just pick the one you like the best.
Competition's not your style? We've also got several volunteer positions available for those that want to help out. Come on over and check us out and see what you think. And if you like what you see maybe you'll join us, and tell all of your friends.
Please tell 'em Huntress Mystic Fyre referred you if you decide to join!


Huntress Mystic Fyre
Where the seed of friendship blooms
http://www.thewebbrawls.com
Come join the fun!!
Saturday, September 14th 2002 - 09:57:30 PM


Monday, August 26th 2002 - 08:40:11 PM


Monday, June 10th 2002 - 03:43:52 PM


Name:
Nola
E-mail address:
nola@nolamarie.net
Homepage URL:
http://www.nolamarie.net/index.html
Comments:

~*~*~*~*~*~*~*~
.`'`.*.`'`.*.`'`.*.`'`.*.`'`.
*;.'.;*dust'.'dust'.'dust*;.'.;*
*.*.*silliness'.`.*.`.'sprinkles*.*.*
~.'.`*`.'.`*`.'`*`.'.`*`.'.~
u has been birthday dusted by, *Nola*



Name:
Laura
E-mail address:
lauraeg@comcast.net
Homepage URL:
http://lauraskeepsake.com
Comments: Hello Ingis, I am stopping in to wish you a very Happy Anniversary, both from Gateway to Friendship, and myself!
Hugs, Laura


Sunday, May 26th 2002 - 01:49:17 PM










Sunday, May 5th 2002 - 08:23:14 PM










Name:
Montonya Pippa
E-mail address:
cowgurl67@ll.net
Homepage URL:
http://mustangbeamranch.homestead.com/backtothebarn.html
Comments: I came to your site thru the Sisters of the Golden Moon webring early Saturday morning out of boredom and I'm glad I did. You have a very mostly wonderful site. I enjoyed my stay here and gettin to know one of my sisters better. Keep up the great work and don't be too hard on yourself dear. You do very good work on your site. Come see me if you have time. I am with the Causes constellation.

Saturday, March 16th 2002 - 11:39:53 AM










Friday, January 25th 2002 - 05:53:23 PM










Name:
~*~ Marisha aka Lady Angel Smile ~*~
E-mail address:
travelingwomenclub@yahoo.com
Homepage URL:
http://travelingwomen.tripod.com
Comments:

My dear friend!
I have really enjoyed knowing more about your culture and traditions and I would like to invite you to join Traveling Women Club at http://travelingwomen.tripod.com . We get together from around the world to share our cultures and ideas, to stay in touch and find new friends!
Best wishes and hugs,
Marisha aka Lady Angel Smile
You can also visit my personal site http://myuniverse.by.ru

Tuesday, January 22nd 2002 - 06:13:49 AM










Saturday, December 22nd 2001 - 06:13:41 AM










Friday, December 21st 2001 - 06:12:04 AM










Thursday, December 20th 2001 - 05:46:30 PM










Tuesday, December 18th 2001 - 07:08:31 PM










Monday, December 17th 2001 - 02:30:49 AM










Name:
Tali
E-mail address:
kpetty@kc.rr.com
Comments:


Please come join our snowball fight.

Saturday, December 15th 2001 - 10:39:48 PM










Saturday, December 15th 2001 - 09:13:17 PM










Name:
~Lady Serenity
E-mail address:
myworldofserenity
Homepage URL:
http://www.geocities.com/myworldofserenity
Comments: Hi There...

I wanted to stop by and give you my warmest holiday wishes to you and your family this season! May you all have a very blessed and most wonder Christmas Holiday together :)

*huggz*
~Lady Serenity

Thursday, December 13th 2001 - 10:05:09 PM










Tuesday, December 11th 2001 - 03:16:42 AM