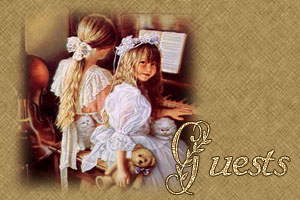 Sign my Guestbook | Back to my site

Name:
Birgitta
E-mail address:
magnolialanegreenworld@gmail.com
Homepage URL:
http://vetteljus.se/ipets
Comments:
Please sign this guestbook if you are visiting. It's not often anyone comes by, according to this book. I don't have any visitor counter on this page, so all I can see is those who write me a message here.

I used to have a webring connected to this site, but I deleted it a few years back. Now it's a site all about our family pets and nothing more. I hope you have enjoyed it anyways and picked up a few gifts on the way.

If you wish to join our family we have a webgroup called Magnolia Lane, which you'll find links to on this site. It a nice group I've had running since 2004. I've made some new great rules I hope everyone will like.

Birgitta

| | |
| --- | --- |
| | Tuesday, May 8th 2012 - 02:40:23 PM |

Name:
Birgitta
Homepage URL:
http://vetteljus.se/ipets
Comments: Hej!
Skriver en rad för att berätta för alla besökare att jag just gjort stora förändringar här. Inte så mycket som syns, men hela min djursida, som förut hette Djurens Värld, har bytt namn och heter numer AngoraKatter, eller långt på engelska "Pets and angora cats". Samtidigt flyttade jag den sajten till samma subdomän som tambursidan "Ingis World of Pets". En till sak jag ändrade är att jag tog bort webbringen. Så ingen mer angoraring alltså. Men intresset var noll från alla angoraägare så det var på tiden.

Övrigt är att jag tagit bort min gamla raskattsida. En besökare här nere nämner sin Ragdoll. Han låter som vår nya kattunge Tirion, som vid 7 månaders ålder redan är MYCKET större än sin pappa Tilion. Hans bror Anar är normalstor, liksom mamman Arien, medan lillasystern Alcarinque är så liten så liten som en pyttekattunge. Hon brås nog på deras lille far. Om jag hinner ska jag sätta in bilder på detta gäng, samt på kattungarna dotterns katt Rana, svartsmoke jättebomb till långhårskatt, fick 2007.

Den gamla djursidan med foton på alla våra djur är också nertagen. Hann inte göra klart den ens en gång. Nu får det bli att slänga in lite foton här om jag hinner. "Honors" sidorna kanske jag ändrar så fler djur finns på varje sida. Just nu suger de länkarna och nästan alla djur saknar en sida eller bild. Ledsen för det!

Hoppas du annars trivs här på sidan och inte saknar mina gamla, över 10 år, sidor.

Kram, Birgitta
| | |
| --- | --- |
| | Monday, February 22nd 2010 - 09:44:02 AM |

Name:
Marina
Homepage URL:
http://hem.passagen.se/yamahatjej/
Comments: Hej
Fin hemsida du har.
Gillar din grafik vädligt mycket.
Duktig du är.

:-)

Titta in till mig och skriv någon rad i min gästbok.
Önskar dig en fin söndagskväll och en y vecka som kommer.
Ta väl hand om dig.

Kommentar: Tack för hälsningen och inbjudan Marina! Om jag inte var så upptagen jämt kunde jag kanske surfa runt lite mer, men det tycks aldrig bli tid för det. Liksom inte att uppdatera mina djurs sidor. Istället tog jag nu ner två gamla djursidor. Lite mindre att uppdatera, men men...

Ha det så gott och det är roligt att det finns de som faktiskt tar sig tid och tittar runt på andras sidor. Jag skäms lite...

Kram, Ingis
| | |
| --- | --- |
| | Sunday, October 4th 2009 - 08:57:10 PM |

Name:
Fairy Skyla
E-mail address:
fairyskyla@yahoo.com
Homepage URL:
http://fairyskyla.com/webringsowned.html
Comments: You are cordially invited to join the I Have Wings Webring and Fairy Musette's Grove Webring. These webrings have been online now since 2001 and will guarantee new visitors to your website. We are not an online group but a webring that connects each other's website. We are located at the new ringsurf. Please consider joining us.

| | |
| --- | --- |
| | Friday, August 8th 2008 - 09:00:09 PM |

| | |
| --- | --- |
| | Sunday, June 10th 2007 - 04:46:16 PM |

| | |
| --- | --- |
| | Monday, October 30th 2006 - 10:46:29 AM |

Name:
Lady Jenavi, Canada
E-mail address:
ladyjenavi@cogeco.ca
Homepage URL:
http://www.ljlit.bravepages.com
Comments: Just visiting after reviewing my Passages Through Time guestbook after many years! I was offline for almost 2 yrs, so I am trying to play catch up. I am redoing that site, which you left a lovely comment about, and the one above is another of my sites. It is dedicated to the WOSIB Literary Garden, of which I was a member. I noticed you are a member too?

Your site(s) are magnificent! I'm surprised you were impressed by mine! This one in particular caught my attention because I have a ragdoll myself. Something you don't mention about the ragdolls...they are the largest breed of domestic cat in the world. My Anakin is going to be 1 yr old soon, and he already weighs 15 lbs! Males can be as much as 25lbs. And they continue growing for 2-3 yrs. I worry about how big mine is going to be in the end! LOL But they are very sweet, non-aggressive kitties...gentle giants! :)

Thanks for visiting my home...and I've enjoyed visiting yours! Just beautiful!

hugs, Lady Jenavi

Entered: Tuesday 09/12/2006 7:51:55am
| | |
| --- | --- |
| | Tuesday, October 10th 2006 - 04:55:50 PM |

Name:
Cathy, Indiana, USA
Homepage URL:
http://genteelangels.com
Comments: Hi Lady Ingis, I'm just dropping by the return your visit hun. I'm moving my personal site to its own dominion of http://misspeds.com Above is my group website. Take care hun formerly aka Sky Angel

Entered: Saturday 08/26/2006 11:01:11pm
| | |
| --- | --- |
| | Tuesday, October 10th 2006 - 02:13:22 PM |

| | |
| --- | --- |
| | Wednesday, July 5th 2006 - 07:46:26 PM |

| | |
| --- | --- |
| | Wednesday, May 3rd 2006 - 05:20:52 AM |

| | |
| --- | --- |
| | Thursday, March 16th 2006 - 11:27:50 PM |

| | |
| --- | --- |
| | Tuesday, February 14th 2006 - 07:22:59 PM |